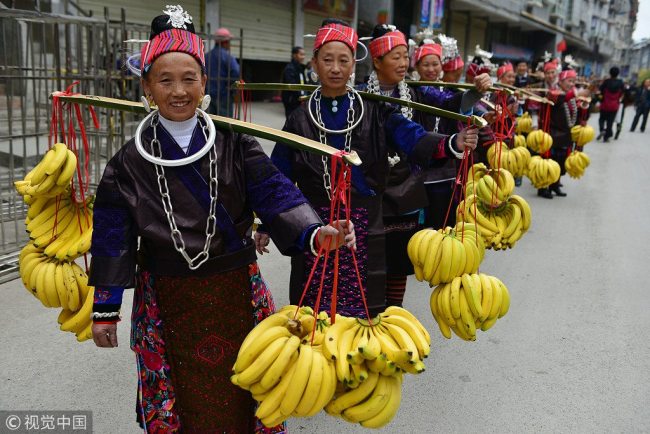 Over 240 women of the Miao ethnic group(苗族) and their husbands, both dressing(穿着) in traditional costumes(传统服装), were seen Wednesday shouldering(肩挑) gifts(礼物) like bananas(香蕉), apples(苹果) and fish(鱼) in Dagaowu Village(大稿午村) of Jianhe(剑河县), Guizhou Province. The couples(夫妇) were going to the homes of their wives' parents to celebrate(庆祝) the traditional(传统的) Miaonian(苗年), a local festival of harvest. It's been a tradition for Miao women to go back home of their parents(回娘家) during the Miaonian Festival(苗年).
在贵州黔东南地区,嫁出去的姑娘被称为"姑妈",她们的丈夫被称为"姑爷","姑妈"集体回娘家过苗年是当地苗族同胞世代传承的习俗。
词汇 Words:
[qìng zhù] 庆祝 celebrate
[chuán tǒng] 传统 tradition
[lǐ wù] 礼物 gift
[fū fù] 夫妇 couple
[chuān zhe] 穿着 dress
[jiān tiāo] 肩挑 shoulder
重点词汇 Key word:
回
<动词 v.> return; go/come back
E.g. Bǎ tā jiào huílái!
把他叫回来!
Get him back!
<动词 v.> turn round
E.g. Tā jīngyà de huítóu kàn le kàn。
她惊讶地回头看了看。
She looked round in surprise.
<动词 v.> answer; reply
E.g. Kǒngpà wǒmen bù néng huídá rènhé wèntí。
恐怕我们不能回答任何问题。
We can't answer any questions, I'm afraid.
<量词 measure word> time; piece
E.g. Wǒ hái nòng bù qīngchǔ shì zěnme yīhuíshì。
我还弄不清楚是怎么一回事。
I'm unable to make head or tail of it.