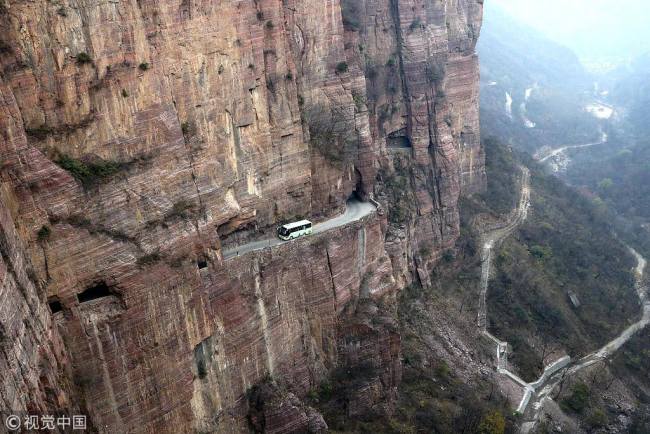 Adrenaline rush! Aerial photos released this month showed a road(路) winding(盘旋) through a cliff in Xinxiang(新乡), Henan Province. The tunnel(隧道) road stretches(延伸) 1,300 meters long(长) and is five meters high(高) and four meters wide(宽). It was dug(挖) by 13 villagers from 1972 to 1977 with only hammers(锤子) and steel files(钢锉). It opened to traffic in May 1997.
词汇 Words:
[pán xuán] 盘旋 wind
[yán shēn] 延伸 stretch
[wā] 挖 dig
[lù] 路 road
[suì dào] 隧道 tunnel
[cháng] 长 long
[gāo] 高 high
[kuān] 宽 wide
重点词汇 Key word:
盘
<名词 n.> tray; plate; dish; saucer
E.g. Bǎ pánzi xǐ xǐ,ránhòu fàngdào pánzijià shàng qù liànggān。
把盘子洗洗,然后放到盘子架上去晾干。
Wash the dishes, then put them in the plate rack to dry.
<动词 v.> wind; coil up; twist
E.g. Gōnglù yán zhe shānyāo pánxuán ér shàng。
公路沿着山腰盘旋而上。
The highroad winds up the mountainside.
<动词 v.> check; examine;interrogate
E.g. Jīnrì pándiǎn, míngrì zhàocháng yíngyè。
今日盘点,明日照常营业。
Stocktaking today. Business as usual tomorrow.