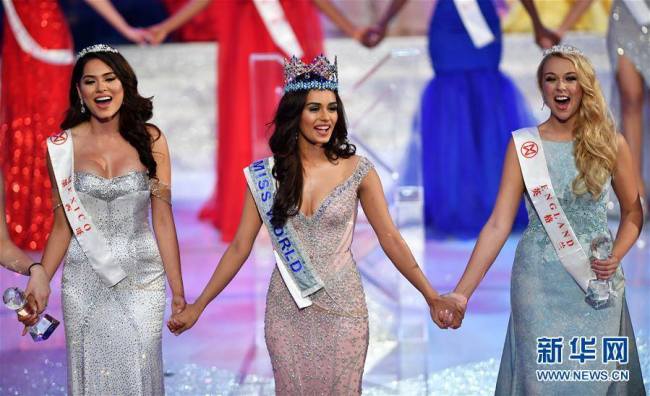 India's(印度) Manushi Chhillar was crowned(摘得桂冠) Miss World(世界小姐) 2017 on Saturday in China's Hainan Province. Miss Mexico(墨西哥) Alma Andrea Meza Carmona and Miss England(英格兰) Stephanie Jayne Hill took the second and third places, respectively(分别地). Contestants(参赛者) from 118 countries(国家) and regions(地区) took part in(参加) this year's Miss World competition(比赛).
词汇 Words:
[bǐ sài] 比赛 competition
[cān sài zhě] 参赛者 contestant
[guó jiā] 国家 country
[dì qū] 地区 region
[cān jiā] 参加 take part in
重点词汇 Key word:
夺 <动词 v.>
Take by force; seize; snatch
E.g. Zhànzhēng duōqù le xǔduō rén de shēngmìng。
战争夺去了许多人的生命。
The war has taken a heavy toll of human life.
compete/strive for
E.g. Gāi duì duódé nǚzi guànjūn。
该队夺得女子冠军。
The team took the women's crown.